The stories of families and survivors are the heart and soul of the National Inquiry into Missing and Murdered Indigenous Women and Girls.
The National Inquiry has three parts to its Truth Gathering Process.
Part I focused on gathering information from families and survivors through Community Hearings and Statement Gathering events. While registration for Part I events closed on April 20, 2018, through this process the National Inquiry heard 1484 testimonies from families and survivors.
Part II Institutional Hearings and Part III Knowledge Keeper and Expert Hearings continued through December 2018 to gather the testimony of Knowledge Keepers and experts such as government officials, academics, legal experts and community leaders.
The Commissioners delivered the final report to the Government of Canada and the provinces and territories at a Closing Ceremony on June 3, 2019.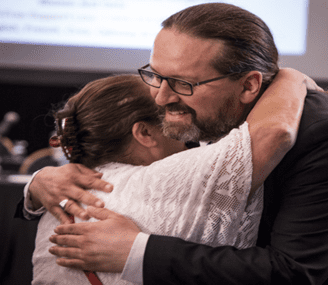 ---
June 2018- Commissioner Brian Eyolfson welcomes participants at the institutional hearing on Police Policies and Practices in Regina.