IMPORTANT:
Registration for Community Hearings/Statement Gatherings closed on April 20, 2018.
If you want to share your story with the National Inquiry into Missing and Murdered Indigenous Woman and Girls, here's what you need to know:
The National Inquiry is participant centred, collaborative, holistic and rooted in compassion.
Families, survivors and loved ones have choices in how to share their stories, in a comfortable and safe way.
There are six steps to sharing your story.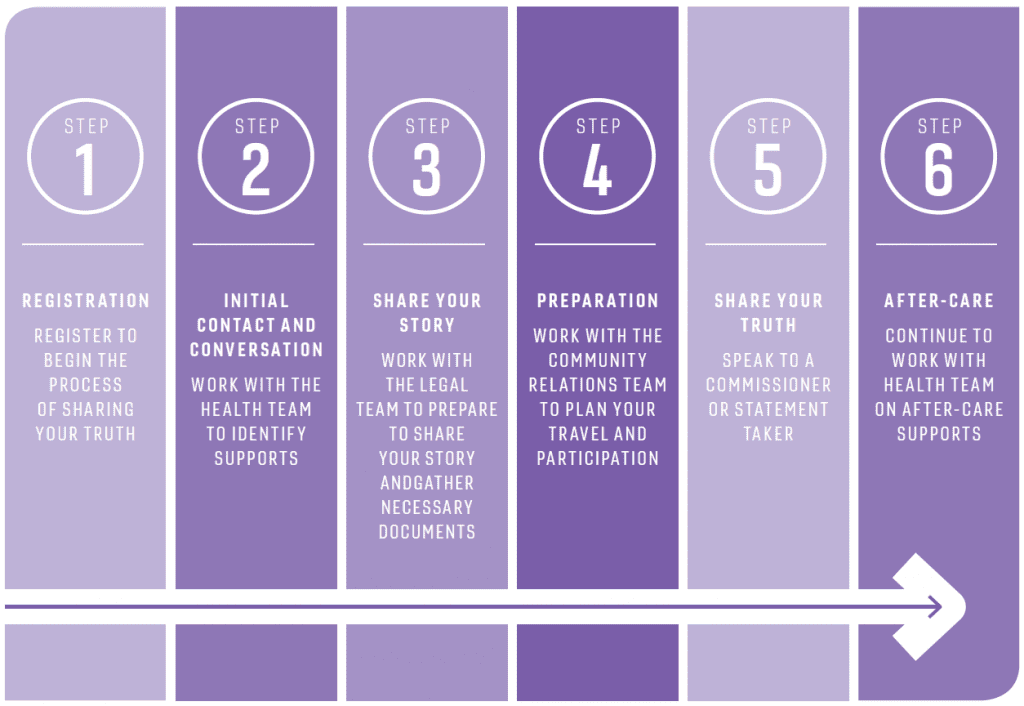 STEP ONE: REGISTRATION
It all starts when you choose to become a participant by reaching out to us. There are five ways you can register to share the story (stories) of your lost loved one(s) or your own truth as a survivor of violence:
Phone us toll-free at: 1-844-348-4119

Fax us at: 604-775-5009

Send us a letter at: PO Box 500, Station A – Vancouver, BC, V6C 2N3

Email us at: profile@mmiwg-ffada.ca

Meet us in-person during one of our community visits, the locations of which will be posted on our website at www.mmiwg-ffada.ca
STEP TWO: INITIAL CONTACT AND CONVERSATION
The first person you will hear from will be a member of our Health Team. This is an important step that allows us to gather basic information so that we can understand what supports you may need as you journey through the process of telling your story. Once you are ready, you will be referred to a member of the Legal Team to begin the next step.
STEP THREE: SHARING YOUR STORY
Next, a member of the Legal Team will contact you. They will help prepare you to share your truth in the best way possible. They will also help families and survivors gather any documents you need (including coroner, police, and Crown reports), so that your truth is told in the best way possible.
Here are the ways you can share your truth:
Before a Commissioner in a public Community Hearing.

Before a Commissioner in a private and confidential hearing.

In a circle, with members of your family, or other families, loved ones, or survivors, before a Commissioner.

With a statement gatherer in a private place with no Commissioner. (The Commissioners will read your statement and take your truth into account when making their findings and recommendations.)
STEP FOUR: GETTING PREPARED
Next, you will speak to a member of the Community Relations Team. They will help you plan how to tell your story. This may include planning travel to and from a Community Hearing or a location to meet with a statement gatherer.
STEP FIVE: SHARING YOUR TRUTH
Community hearings will take place across the country. This is where you can speak before one or more of the Commissioners, either in public or in a confidential setting. You will have a schedule of the events for the hearing and will know when you are expected to speak. You will have your health and family supports beside you, as well as one of our Legal Team members to guide you through the process. There will be traditional opening and closing ceremonies that you can choose to participate in if you wish.
STEP SIX: AFTER-CARE
After you have shared your truth with the National Inquiry, you will continue to work with the Health Team on your after-care needs and support. We will have a gift for you that we hope you can use to continue on your own healing journey. We invite you to share stories or photographs of you using this gift, to continue our relationship in the future.